Think Twice Before You DIY: The Risks of Self-Installed Stairlifts
A Straightforward Guide to Keeping You Informed
We understand that homeowners take pride in completing do-it-yourself projects and may have family members who are handy with home improvement tasks. However, when it comes to home accessibility projects such as installing a stairlift, safety, and proper installation must be prioritized above all else.
Stairlifts are essential support aids that provide safe transportation for individuals up and down a set of stairs using a powered chair that is mounted to a rail along the staircase.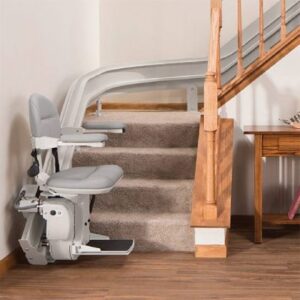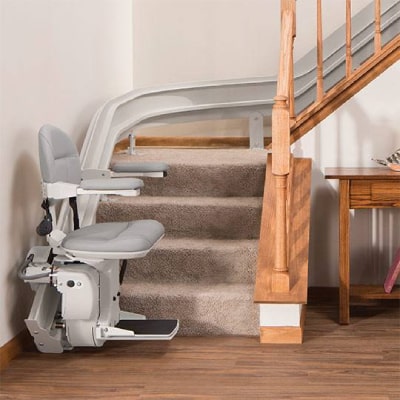 The designs vary, with some providing a simple straight track for homes with a single set of stairs and others featuring a more complex curved track that can be custom fitted for your staircase, including landings and multi-level staircases.
It may seem tempting, to purchase a straight lift kit and install the stairlift yourself, but this is not recommended.  A recent position paper from the Accessibility Equipment Manufacturers Association (AEMA) strongly advises against self-installations and DIY stairlifts. Why? Unsafe installations can damage the stairlift, leading to breakdowns, and even worse, cause accidents and compromise the safety of the user.
Even if you're handy with a toolbox and have a carpentry or electrical work background, it doesn't mean you have the proper training and experience to install a stairlift accurately and safely. A safe installation requires specific training and an understanding of the product. And let's not forget about the local codes and regulations that must be adhered to during the installation process.
 

It's essential to prioritize safety and ensure that your stairlift is installed:
In a safe manner that doesn't cause any harm to the user

In a manner that ensures operational safety to avoid breakdowns

In strict conformance with local codes and regulations to avoid any legal issues
Dangers of DIY Stairlift Installations:
1. Compromised safety
Without quality checks and safety standards, a DIY installation can endanger the user and others using the staircase. The core components of a stairlift must be intact to ensure safety, and a DIY installation does not provide this assurance.
2. Technical Support
Attempting to install a stairlift without proper training can be challenging, and troubleshooting can be impossible without technical support. Unfortunately, most stairlift companies cannot provide this support due to liability risks.
3. Imperfect Fit
Stairlifts bought from third parties may not fit your staircase properly, leading to dangerous situations. Most stairlifts are designed for a specific side of the staircase, and placing a right-hand stairlift on the left side can create a potential hazard. Moreover, a DIY stairlift could cause the chair to swivel in the wrong direction at the top of the stairs, which could be dangerous for the user.
4. Voided warranties
Refurbished stairlifts usually come with extended warranties and can be installed by professionals who offer re-installation services after a thorough quality check. DIY stairlifts, on the other hand, receive no such benefits.
5. Stairlift Servicing
Regular maintenance is crucial for your stairlift's safety and longevity, but many reputable companies refuse to work on a DIY installation due to potential liability risks.
The Professional Difference
When you get a professional installation, you can rest easy knowing that your stairlift will be installed to the manufacturer's standards. Plus, you'll get a full customer walk-through to learn how to operate your stairlift safely. This gives you added peace of mind and the knowledge that you're in good hands if you need help troubleshooting or a call-out service.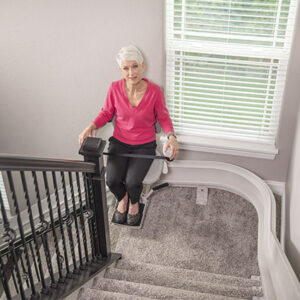 But that's not all. If you buy your stairlift from a reputable company like Paramount Livings Aids, you'll also get expert support. So if you ever need any help or advice, you can give us a call.
Consistent service is key to maintaining your stairlift's longevity, and we recommend getting it serviced annually. This becomes especially important as your stairlift ages. That's why it's a good idea to establish a consistent source of service from the beginning. But if you install your stairlift on your own, it's unlikely that a reputable company will want to work on it due to the liability risks involved.
Let us help you!
When working with Paramount Living Aids, you are working with professionals. We make the installation process smoother while minimizing any inconvenience for our customers. Any installation obstacles will be addressed during your in-home assessment to avoid any unforeseen issues. 
Before you or a loved one considers DIY Stairlift installations, do us a favor… Contact us, and let's discuss your options! You can call us directly or use our easy-to-use contact form.