Aging or having mobility troubles can make it challenging to go up and down stairs. A stairlift is a tool that can greatly improve the safety of your home's stairs, especially for those having trouble moving up and down them.
However, before you consider purchasing and installing a stairlift, you should ask some essential questions. This blog post will highlight some of the most important questions you must ask during decision-making. 
What Is the Cost of the Stairlift Installation?
The first question to ask is about the cost of the stairlift installation. How much will it cost?
You need to know how much you will have to pay for the stairlift, installation, and any other related expenses. Ensure that the company is transparent about all costs and there are no hidden charges.
What Is the Capacity of the Unit?
The capacity of the stairlift is another crucial question to ask before installation. You must know how much weight the lift can support. Make sure to evaluate your weight, any mobility devices you use, and anything else you may need to transport on the lift.
You can ask to check the company's product specifications to ensure the stairlift's capacity meets your needs. 
What Type of Safety Features Does It Offer?
A stairlift installation is a long-term investment, and you want to ensure it's as safe as possible. Therefore, it's crucial to ask about the safety features of the stairlift. A lift may feature a seat belt, obstruction sensors, and emergency stop buttons that help protect you from harm.
What Are the Maintenance Requirements?
Like any piece of machinery, a stairlift requires regular maintenance to ensure it functions correctly. Therefore, you should ask about the maintenance requirements of the stairlift. Inquire about the process of maintaining the lift, how often it should be serviced, and who can carry out these tasks.
Typically, a stairlift should be serviced once per calendar year as per manufacturers' recommendations.  Another question to consider is if your stairlift installation company has a maintenance plan you can opt into. 
What Will Be the Installation Process?
Lastly, you should ask about the installation process of the stairlift. Understand the company's installation procedures and the time it takes to install the lift. Make sure to ask any questions concerning the installation process so you are aware of what's going on throughout the process.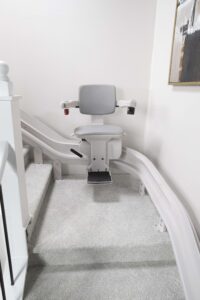 If you're considering purchasing a lift, you shouldn't make the decision without first asking the right questions. Inquiring about the cost, capacity, safety features, maintenance requirements, and installation process before the installation can make the process easier and help you be confident about your purchase.
---
At Paramount Living Aids, we understand how important it is to make an informed decision regarding your safety and mobility needs. Our team of experts will be more than happy to answer any questions and guide you through choosing and installing the perfect stairlift for your specific needs.
Don't let mobility challenges limit your independence and safety at home. Contact us today to learn more!