At Paramount Living Aids, we set the standard as a leading stairlift company committed to ensuring your home remains a place of comfort and accessibility without the worry of mobility limitations. Unlike other stairlift companies that offer one-size-fits-all solutions, we provide a comprehensive range of services that includes stairlift repair and tailored installations. Our expertise spans indoor, outdoor, and custom stairlifts designed to make multi-level living effortless and safe. When stairs become a challenge, we offer transformative solutions that enable easy access to all floors of your home or office. If you have questions about our stairlift products or services, don't hesitate to contact us at your convenience.
Indoor Stairlifts
Navigating between floors in a multi-level home or office can pose a challenge for those with mobility issues, and indoor stairlifts are the perfect solution for individuals with mobility challenges. Paramount Living Aids' state-of-the-art stairlifts make this challenge an opportunity to promote independence, safety, and comfort. Indoor stairlifts are designed to fit onto existing staircases and can be customized to fit any staircase type – straight or curved. Commonly equipped with multiple features like a user-friendly control system, padded seats, safety belts, and obstruction sensors, these stairlifts offer comfort and safety in equal measure. The compact, foldable design ensures minimal intrusion into living spaces, while the swivel seat allows for effortless exit at both ends of the staircase.
Outdoor Stairlifts
Our outdoor stairlifts are meticulously crafted to withstand the outdoor elements for year-round operation in any weather condition and offer direct access to your outdoor living spaces. Whether for the deck, patio, garden, or any other level around the exterior of your home, these stairlifts ensure smooth, safe transitions. Similar to our indoor models, they are commonly equipped with padded seats, safety belts, user-friendly controls, and obstruction sensors for enhanced safety. Available for straight or challenging scenarios, our outdoor stairlifts can accommodate a variety of designs. With installation and maintenance by Paramount Living Aids, enjoy the outdoors with the confidence and freedom our outdoor stairlifts provide.
Custom Stairlifts
Paramount Living Aids offers stairlifts that are adaptable to virtually any staircase, irrespective of its shape or size. Our installations ensure an effortless operation and a smooth, reliable ride every time. Personalization is at the heart of our services, and we provide many customization options to cater to individual comfort. From selecting the perfect seat size to choosing practical footrests, every aspect of your stairlift can be tailored to your needs.
Each of our stairlifts is equipped with user-friendly controls for effortless operation. Remote controls are also available to summon the chair to your location, adding an extra layer of convenience. Our coverage extends across Reading PA, Lancaster PA, Harrisburg PA, Allentown PA, Lebanon PA, Philadelphia PA, and Scranton PA, where we have outfitted countless homes with the gift of easy mobility.
Features of Our Stairlifts
Standard features of our stairlifts include:
Padded seat and backrest for enhanced comfort
Compact, foldable design for discreet placement
Safety belt for added security
Swivel seat for easy exit at both the top and bottom of the stairs
Obstruction sensors for safety
Simple, user-friendly controls and remotes
Smooth, secure ride
Options for both straight and curved, indoor and outdoor installations
Capacity to handle larger weights
Variations to fit different budget sizes
Straight and Curved Stairlifts
Stairlifts operate along a track affixed to one side of your staircase. For a single flight of stairs, a straight track suffices. However, we offer custom curved stairlifts if your home features multiple flights, landings, spirals, or designs other than a straight line. These custom installations follow the unique contours of your staircase, providing comprehensive accessibility.
Authorized Dealer
As an authorized distributor for leading stairlift brands, we install, maintain, and repair products from Bruno Stairlifts, and Brooks by Acorn Stairlifts. All our installations are executed by factory-trained technicians, ensuring excellence at every step.
Explore our partners' product specifications directly on their sites, but remember to contact us for the best local pricing and installation services. Our commitment to fostering freedom and mobility extends across Reading PA, Lancaster PA, Lebanon PA, Harrisburg PA, Allentown PA, Philadelphia PA, and Scranton PA. With Paramount Living Aids, embrace a life of unrestricted movement in the comfort of your own home.
Stairlift Repair
When it comes to stairlift repair, Paramount Living Aids stands as a trusted and reliable stairlift repair company. Our experienced team knows the ins and outs of various stairlift models, making us experts in diagnosing issues that require attention. We don't just repair stairlifts; we ensure they function as good as new. Our repair process involves several key steps:
Thoroughly assess the condition of your stairlift to identify problems.
Once the problem is found, repair stairlift components swiftly and efficiently.
Run tests to confirm the stairlift is back in optimal working condition.
Ensure you're comfortable using the repaired stairlift.
Explain any changes or upgrades made during the repair process.
Frequently Asked Questions About Stairlifts
Does the stairlift attach to the wall?
Stairlifts are installed into the steps not the wall.
Where is Acorn stairlifts made?
The Acorn stairlifts are made in the United Kingdom.
Where is Bruno stairlifts made?
The Bruno stairlifts are made in the United States.
How long does the battery last if the power would go out?
The stairlift can make approximately 10 trips up or down without recharging the battery.
How does the stairlift run?
Stairlifts run on two 12V batteries but do need to plug into a power source to re-charge.
Do the stairlifts come with remotes?
Each stairlift comes with 2 remotes.
What if the stairlift is only needed short term?
We provide rental stairlifts for short term usage. Should you need the stairlift longer than anticipated, a buy option is recommended.
How long does it take to install a stairlift?
It takes about an hour to install a straight stairlift and about 3 hours to install a curved stairlift. All the prep work is completed in the shop. The lift is installed quickly and efficiently. The technician will then provide a demonstration of how the stairlift operates as well as how to care for it.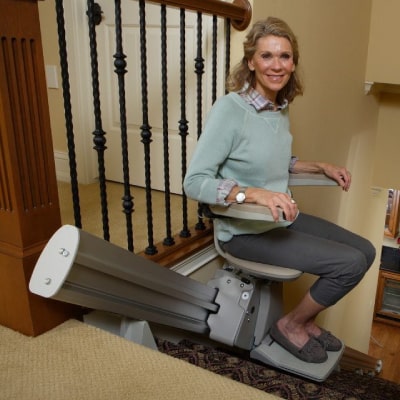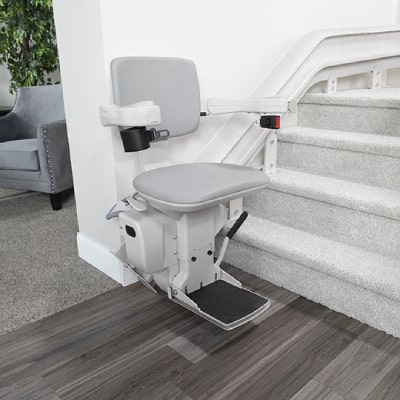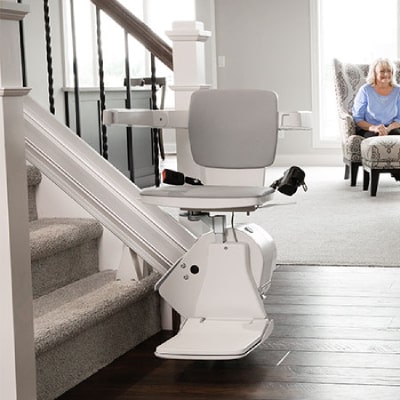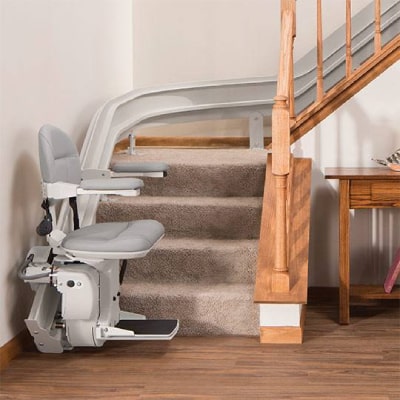 We're here to help! Get started today!
Feel free to contact us via email, phone call, or by filling out our contact form. We offer a complimentary in-home assessment to understand your needs better, followed by a no-obligation quote. We're here to provide the best service and are eager to assist you in any way possible.