Believe it or not, staircases can be one of the toughest challenges to overcome in our homes. But fear not. There are convenient home accessibility solutions available: stairlifts. Stairlifts provide an easy, cost-effective option to transform homes into more user-friendly spaces.
Unfortunately, several misconceptions surrounding stairlifts cause many to overlook them as a great solution. With that said, we're here to debunk some of the most common myths about stairlifts and give you all the tools you need to make a knowledgeable decision.
Myth 1: I want to get a stairlift, but I can't because my staircase has curves and turns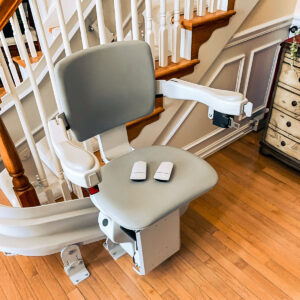 Curved staircases used to be a problem for stairlifts, but modern curved models are now available. Stairlift installation experts measure staircases and construct stairlifts to the correct dimensions to meet the unique requirements of each customer's staircase.
If you go with a Bruno Elite Curved Stairlift, Bruno customizes each stairlift based on your stair's exact dimensions so that each application is specific to your homes needs!
Myth 2: A stairlift takes up the entire staircase when installed
Okay, so here's the deal. Even after you install our stair lift, there will still be plenty of room for people to walk up and down the stairs if they want to. You don't have to worry about blocking off the whole staircase. We know that safety is everybody's top priority, but we also know that you want to ensure that your loved ones can still use the stairs if needed.
One of the great things about our stair lift is that it's super versatile. You can fold up the arms, seat, and footrest when you're not using it; that way, nobody will even know that it's there! And since the fold-up feature is available both at the top AND the bottom of the stairs, you can be sure that you're not impeding anyone's progress.
Most homes in the areas we serve have more than enough space for a stairlift to be installed. We've been doing this for a long time now, and we know all there is to know about staircases. Trust us. We've got you covered.
Myth 3: StairLifts are attached to the wall
Stairlifts are frequently installed utilizing a steel rail bolted to the treads of the stairs. This means that there's no need to make permanent modifications to the supporting walls – a significant advantage.
Myth 4: Stairlifts are run solely on electricity
While it's true that most stairlifts are powered by electricity, the way they charge varies depending on the model. For example, straight-rail Bruno stairlifts can charge anywhere on the track, while Acorn's charge is at the top and bottom. And if you're looking for a Bruno curve, it will only charge at the top and bottom unless you add a mid-park feature. Of course, an electrical source is needed to power the battery charging unit, but it's not necessary for the actual operation of the chair.
Myth 5: To use a stair lift, you have to enter & exit from a stair tread
Most new models come equipped with a super helpful and convenient swivel seat and fold-up footrest feature. This means that you can easily board and dismount your lift at the top of the landing without maneuvering around narrow stair treads or risking losing your balance.
No more awkwardly balancing on a single step or feeling like you're playing a game of hopscotch to reach your lift. Thanks to newly added features, not only do stairlifts make the perfect home accessibility solutions, but they are also safer for those who need them.
Myth 6: A stair lift means giving up your independence
As we age, it's not uncommon to experience mobility issues and find it more difficult to navigate our homes. This can make us feel like we're losing our independence and relying onothers for help. But with a stairlift, you can regain that sense of independence and freedom by being able to move around your home safely and comfortably.
Myth 7: Only seniors use stairlifts
We often think of stair lifts when we think of elderly individuals, but that is incorrect. Individuals of all ages who have medical conditions or physical limitations that prevent them from easily navigating stairs can benefit from the use of stairlifts.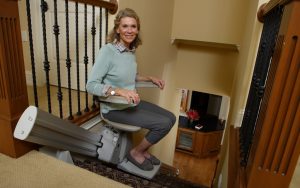 Stairlifts are an excellent solution for anyone who has difficulty with stairs in their home. However, many myths and misconceptions surround using these devices, which can prevent people from considering them as an option. It is essential to seek guidance from qualified professionals before making any decisions.
At Paramount Living Aids, we specialize in a wide range of home accessibility solutions. Our team of experts can help you select and install the right products to meet your unique needs. Whether you're looking for a stairlift or a wheelchair ramp, we've got you covered.
So if you're looking to make your home a more user-friendly space, don't overlook the many options available to you.
Contact Paramount Living Aids today and let us help you find the perfect solution for your home accessibility needs!