What is a Modular Ramp?
Modular ramps have become increasingly popular in recent years due to their convenience and affordability.
A modular ramp is essentially made up of smaller parts that are then connected together to create a single, reliable structure for wheelchair access or other uses. These ramps come in many different shapes and sizes and are designed with safety, comfort, and accessibility in mind.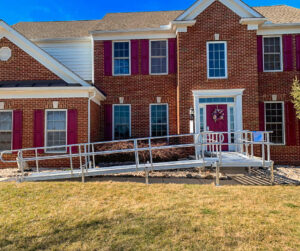 Modular ramps are also easy to install and maintain and can be moved if necessary. They provide an ideal solution for those who need access solutions but don't want the expense of a permanent ramp structure. With the right knowledge and understanding of how they work, modular ramps can be a great asset to any resident.
Here are a few reasons Modular Ramps have become increasingly popular:
Flexibility
A modular ramp has the ability to be customized so that it fits perfectly with your property's landscape. With different ramp and platform sections of various sizes, the ramp layout can be designed to accommodate a variety of obstacles and needs, including weaving around a large tree, extending around an HVAC unit, or shifting to land in a specific spot. Installers have the flexibility to create an accessible layout that works exactly as needed and allows maximum use of existing space on the property.
Faster Installations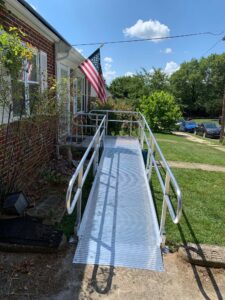 At Paramount Living Aids, we like to use products from reputable manufacturers.  One of those manufacturers is National Ramp. These ramp products offer a simple and secure connection system through a tongue and groove system.
Made of lightweight aluminum for easy portability, the ramp and platform sections can be handled by one or two people with ease. With each section designed to fit perfectly into the other, you can rest assured that your installation will be secure and stable upon completion. Each product is tested to meet or exceed safety standards, so you know that you have the highest quality ramp.
Simple Repairs
After a major storm, a fallen tree limb can cause extensive damage to a ramp and its handrails. Fortunately, National Ramp dealers are equipped to handle this problem quickly and efficiently. Modular ramps are designed so that only the damaged components need to be replaced; this makes repairs more cost-effective than constructing an entirely new permanent ramp. We can uninstall the section of ramp with the damaged and replace it with new pieces before reconnecting the ramp.
With such specialized expertise, your repairs will be done in no time, and you can continue using your modular ramp as usual.
Relocation
By Using Modular Ramps systems, we have the capability to reconfigure the ramps to best fit the needs of our clients. This can be especially helpful if there have been changes in circumstances, such as an illness or a new living arrangement, that require an updated ramp design.
For instance, if the primary user requires more access from the back of the home rather than from the front door, we are able to move and adjust the ramp for safe use. With these personalized solutions and adaptability, our clients' mobility needs are taken care of in any situation!
Removal
Modular Ramps can be quickly and easily removed within a few hours with minimal disruption to the property.
The process is simple, involving undoing any bolts that were used in the installation, as well as removing any screws or anchors used. There may be some slight scuffing of grass or soil where the ramp was attached, but this will soon heal over and be unnoticeable in no time.
Once the ramp has been fully dismantled, you'll find your property restored to its former state, with no traces that a ramp ever existed.
The modular wheelchair ramp is truly a revolutionary product in the industry. It offers superior durability, easy assembly and disassembly, and improved portability over traditional wheelchair ramps.
These factors make the modular system a great choice for anyone looking for a reliable, cost-effective solution to their accessibility needs.
Additionally, its modular design allows users to customize their ramp to meet their exact specifications, allowing them to make use of available space in ways they never could before. With these features and benefits, it is no wonder that the modular wheelchair ramp is leading the industry as an accessible and achievable solution to mobility needs.
---
Questions
Modular Ramp Systems have become increasingly popular, but there can be some questions about them. Here we provide key insights into common inquiries to help you make the best decision for your needs.
Q. How long does it take for the ramp to be installed?
Most ramps can be installed and ready for use within a few hours. Only the smallest percentage of very large ramps might take two days to complete.
Q. Does my ramp really need to be that long?
Our dealers are trained to follow the Americans with Disabilities Act (ADA) guidelines, determining a safe layout for your home based on your mobile device and your starting and ending locations. An unsafe ramp can be just as dangerous as no ramp at all.
Q. How can I clean my ramp?
For all ramps, use an outdoor broom to clear away any debris. For more detailed cleaning, only use cleaners approved for your ramp's material.
Q. What can I do for snow removal?
For consumers with an aluminum mesh surface ramp, you can sweep the snow through the open mesh surface.
If you have an aluminum solid deck ramp, we recommend using a calcium chloride salt substitute, readily available in the winter months, wherever ice melts, are sold.
Q. I'm moving. Can I take my ramp with me?
Once the ramp is installed, it is your property, and you can have it removed and installed elsewhere. We strongly recommend contacting the dealer who installed the original ramp to assess your new home and complete the new installation to ensure that the new ramp will be safe for use and to add any needed parts.
---
If you are exploring the possibility of a safe, reliable ramp system for your home, trust Paramount Living Aids to provide expert advice and top-notch installation. Backed by years of experience in the industry, we offer free consultations with an aim to equip your necessary information about Modular Ramp Systems that best fit your needs. Contact us today!