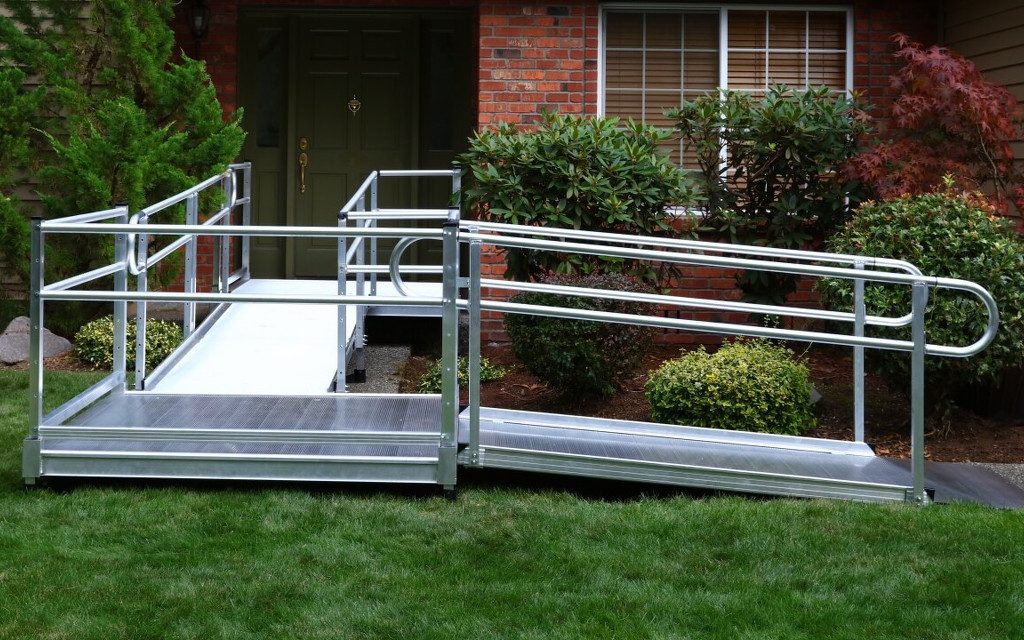 Wheelchair accessibility is critical to enabling wheelchair users to be independent. Ramps are an important part of making homes and commercial buildings accessible. The kind of ramp you need will depend on your use. No matter what your specific needs are, we have a ramp solution that is right for you.
We offer three different types of ramps – modular ramps, portable ramps and Threshold ramps manufactured by National Ramp, PVI and EZ-Access.


Modular Ramps
Modular ramp systems combine ramps, platforms and handrails for reliable wheelchair accessibility into your home. Our modular ramps are made of aluminum, wood or steel and can be configured for a variety of applications. Our ramps offer the following benefits:
Slip-resistant surface.

Weather resistant design for everyday use
Can be configured to fit virtually any entrance
Quick to install and use.

Portable Ramps
Our solid single piece ramps are our simplest ramp option. You can also get them with handrail options.
We also have foldable ramps that fold up like suitcase and come with carrying straps. They are easy to store and take with you. Portable ramps are available in 2ft to 10ft in length.
Both types of portable ramps are easy to setup when you need them and quick to remove when you don't.

Threshold Ramps
We offer aluminum and rubber threshold for heights of about ½"-2". We also have ramps that are adjustable to the height of the threshold up to 3". 
If you have any questions about our services in Reading PA, Lancaster PA, Lebanon PA, Harrisburg PA, Allentown PA, Philadelphia PA, and Scranton PA, feel free to contact us.
You can also reach us by:
Phone: 484-509-5024
Fax: 610-796-4739
225 N. Kenhorst Blvd.
Reading, PA 19607