2022 Bruno Stairlift Giveaway Winners
We are pleased to announce that our first-ever Bruno Stairlift Giveaway was a great success! We had the honor of bestowing not one–but two amazing Bruno Elan Straight Stairlifts to two deserving individuals in Berk County, Pennsylvania.
The giveaway was posted on our Facebook page! Individuals could apply or nominate a qualifying Berks County resident. We are pleased that both of our winners were set.
Patricia from Reading, Pennsylvania, and Judy from Mohnton, Pennsylvania, were lucky winners! Both were ecstatic when they discovered they would be the lucky recipients of Paramount Living Aids' first-ever stairlift giveaway.

Bruno Elan SRE-3050 Stairlift

                                                                     
Each winner had a Bruno Elan SRE-3050 Stairlift installed in their home. This stairlift will make their lives easier by allowing them to easily access their homes without straining their bodies while climbing stairs. The stairlift is incredibly practical and offers a newfound sense of independence, making it possible for Patricia and Judy to stay in the home they love.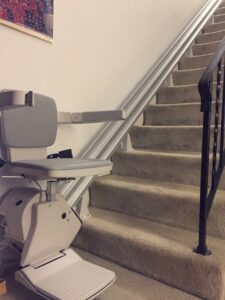 The Elan Straight Stairlift from Bruno features a slim rail design that minimizes obstruction in hallways and landings, as well as innovative controls that make it extremely easy to use.
In addition, Paramount Living Aids made sure both ladies had all the necessary information they needed to safely and confidently operate the lift.
We are grateful to everyone who participated in our giveaway, which gave us the opportunity to empower two people with newfound freedom and accessibility.
If you would like to be notified of future giveaways and happenings, please follow us on Facebook!