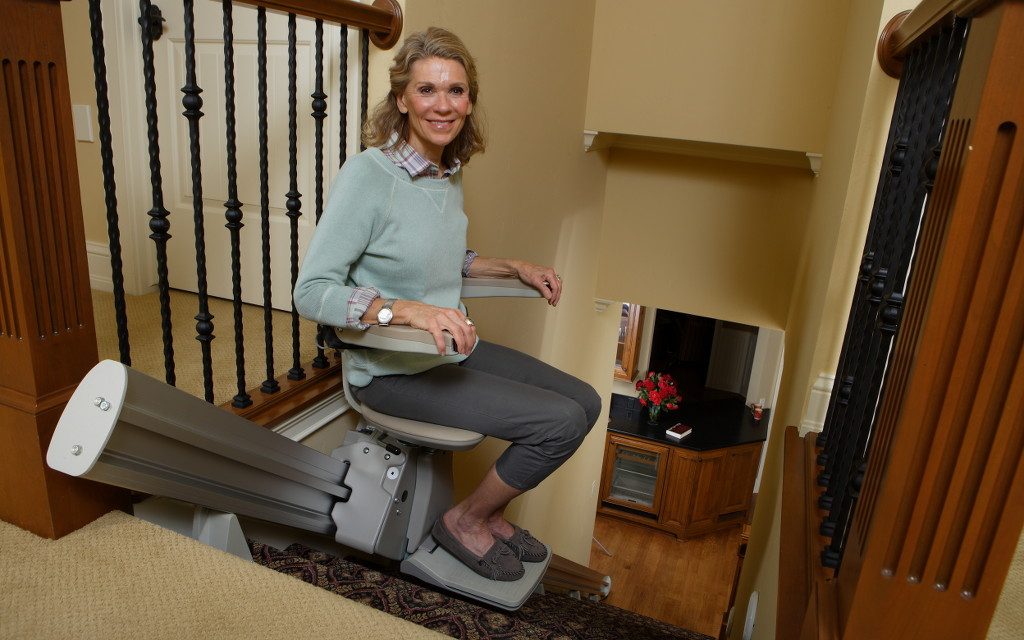 What is a Stairlift?
Stairlifts enable people with mobility challenges to move freely between floors in a multilevel home or office while being seated in a chair.  The Stairlift moves along a track attached to the stairs.
Being able to continue to live in the home you love even after an illness or injury limits your mobility, is priceless. However, this could prove difficult if you have a multilevel home. For people with mobility challenges, stairs are particularly limiting, not to mention fall hazards. Stairlifts, also known as Stair Lifts, Stair-Lifts, Chair Lifts, Stair Climbers, etc., can provide easy access to multiple floors in comfort and safety.

What Are The Different Stairlift Options?
Stairlifts can be installed in stairs of virtually any shape or size. Regardless of the shape or size of the stairs, you can expect our stairlifts to be easy to use and provide a smooth ride every time.
A variety of options are available to customize your stairlift for personalized comfort. Options include choice of seat size, footrests, and more. Each stairlift chair has it's own controls that allow you to move up or down. Additionally, remote controls can be used to move the chair lift along the track to bring the chair to where you are. We have installed stairlifts at home in and around Reading PA, Lancaster PA, Harrisburg PA, Allentown PA, Philadelphia PA, and Scranton PA.
Other standard stairlift features include:
Padded seat and backrest

Compact design allows the lift to fold up out of the way
Every lift has a seat belt for added security
Swivel seat to make exiting the lift easier and safer at the top and bottom
Safety sensors to stop the lift if an obstruction is encountered
Simple to use controls and remotes
Smooth and secure ride
Available in straight and curved for both indoors and outdoors
Available to handle larger capacities
Available for many different budget sizes

Indoor Stairlifts and Outdoor Stairlifts
Indoor Stairlifts enable users to travel upstairs and downstairs inside the house. Outdoor Stairlifts can be installed to provide access to various areas outside the house such as the deck, patio, the garden, etc.

Straight and Curved Stairlifts
Stairlifts move along a track which is attached to one side of the stairs. If you only have one flight of stairs, then you may only need a single straight track. If you have multiple flights of stairs with landings in between, or if you have spiral or other shaped stairs that don't follow a straight line, your stairlift tracks have to be installed on a curved path along the shape of the stairs. These are called Customed Curved Stairlifts.

Authorized Dealer
We are authorized distributors for the top brands in the stairlift industry. We install, maintain and repair Bruno Stairlifts, and Brooks by Acorn Stairlifts. All installations are completed by factory trained technicians.
Feel free to visit factory direct sites for product specifications. Contact us directly for best pricing and local installation. We provide our services to those around Reading PA, Lancaster PA, Lebanon PA, Harrisburg PA, Allentown PA, Philadelphia PA, Scranton PA.

Frequently Asked Questions About Stairlifts
Does the stairlift attach to the wall?
Stairlifts are installed into the steps not the wall.
Where is Acorn stairlifts made?
The Acorn stairlifts are made in the United Kingdom.
Where is Bruno stairlifts made?
The Bruno stairlifts are made in the United States.
How long does the battery last if the power would go out?
The stairlift can make approximately 10 trips up or down without recharging the battery.
How does the stairlift run?
Stairlifts run on two 12V batteries but do need to plug into a power source to re-charge.
Do the stairlifts come with remotes?
Each stairlift comes with 2 remotes.
What if the stairlift is only needed short term?


We provide rental stairlifts for short term usage. Should you need the stairlift longer than anticipated, a buy option is recommended.

How long does it take to install a stairlift?


It takes about an hour to install a straight stairlift and about 3 hours to install a curved stairlift. All the prep work is completed in the shop. The lift is installed quickly and efficiently. The technician will then provide a demonstration of how the stairlift operates as well as how to care for it.
If you have any questions about our services in Reading PA, Lancaster PA, Lebanon PA, Harrisburg PA, Allentown PA, Philadelphia PA, and Scranton PA, feel free to contact us.
You can also reach us by:
Phone: 484-509-5024
Fax: 610-796-4739
225 N. Kenhorst Blvd.
Reading, PA 19607