Stairlifts | Vertical Platform Lifts | Sit to Stand Chairs | Home Safety Solutions | Ramps | Scooters
---
Stairlifts
Indoor and outdoor | Straight and curved
Stairlifts can be installed in almost any home with any size stairs. The stairlifts will provide a smooth and comfortable ride every time and is easy to use. The stairlifts can even be personalized with larger seats, footrests, or colored upholstery to name a few. It has controls on the lift and each lift comes with 2 remote controls as well. The stairlift folds up and out of the way for others to use the stairs with ease. We have installed stairlifts at home in and around Lancaster PA, Harrisburg PA, Allentown PA, Philadelphia PA, and Scranton PA.
Stairlifts are designed to make life easier with standard features such as:
Padded seat and backrest
Compact design allows the lift to fold up out of the way
Every lift has a seat belt for added security
Swivel seat to make exiting the lift easier and safer at the top and bottom
Safety sensors to stop the lift if an obstruction is encountered
Simple to use controls and remotes
Smooth and secure ride
Available in straight and curved for both indoors and outdoors
Available to handle larger capacities
Available for many different budget sizes
We are distributors for the following companies/Stairlifts we install and repair: Bruno, Acorn, Brooks
Feel free to visit factory direct sites for product specifications. Contact us directly for best pricing and local installation. We provide our services to those around Reading PA, Lancaster PA, Lebanon PA, Harrisburg PA, Allentown PA, Philadelphia PA, and Scranton PA.

STAIRLIFT FAQ'S
FAQ's
Does the stairlift attach to the wall?
Stairlifts are installed into the steps not the wall.
Where is Acorn stairlifts made?
The Acorn stairlifts are made in the United Kingdom.
Where are the Bruno stairlifts made?
The Bruno stairlifts are made in the United States.
How long does the battery last if the power would go out?
The stairlift can make approximately 10 trips up or down without recharging the battery.
How does the stairlift run?
Stairlifts run on two 12V batteries but do need to plug into a power source to charge. The chair charges when it is at the top and bottom of the ramp.
Do the stairlifts come with remotes?
Each stairlift comes with 2 remotes.
How long does it take to install a stairlift?
It takes about an hour to install a straight stairlift and about 3 hours to install a curved stairlift. All the prep work is completed in the shop. The lift is installed and then the installers will spend some time going over how it works.

---
Vertical Platform Lifts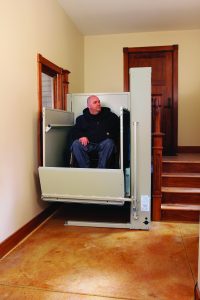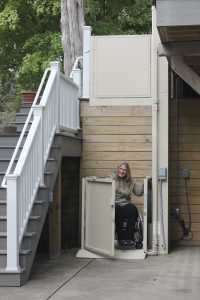 750lb capacity
Emergency stop switch on platform
Optional battery powered motor on lift ensure operation even in power outage
Cold weather package available with weather resistant controls
Quiet smooth ride
---
Sit to Stand Chairs
Multi-position – Measured to fit individual
Optional Features – Massage/Heat, Leather
MORE INFORMATION ON SIT TO STAND CHAIRS
When deciding, which chair is right for you, here are a few things to consider. How much time do you spend in the chair? What room will the chair go in and what is the size of the room? What are your physical dimensions? (Height, weight and width.) How much time do you spend in the chair? What types of fabric to you like? What color will match the room? How many different positions do you want the chair to have?
We sell high quality sit to stand chairs which are designed with the highest level of durability available. They offer a quiet motion from the reclining position to standing position as well as superior comfort to provide the most relaxing chair available. Chairs are designed to be more than just a need. Their superior comfort, many available models and fabrics allow these chairs to go beyond your expectations.
---
Home Safety Solutions

Railings
Wooden handrails
Wrought Iron Railing
Healthcraft:  Superpoles, grab bars, bath board, PT rail, Dependa Bar
Healthcraft offers home safety solutions for everyone in every room of the home.  Many of Healtcraft's products are multi functional and assist in providing mobility safely thru out the home.  Contact Paramount to see how these products can make a difference in your life. Paramount has provided railings to people in and around Lancaster PA, Harrisburg PA, Allentown PA, Philadelphia PA, and Scranton PA.
---
Ramps
Modular and folding/portable options
Modular
Wood, Steel or Aluminum
Slip resistant
Portable
Trifold and Suitcase
Easy removal
Flexible handlers for carrying
Threshold
Rubber Mats and Metal plates
Custom fit for entryways
Brands we carry: Ez access, National and PVI
MORE INFORMATION ON RAMPS
Ramps are ideal for indoor and outdoor use and are easily moved from one location to another. Ramps do not interfere with door tracks making them idea for sliding doors. These slip resistance ramps can be altered for a custom fit for any entryway. (EZ Access Rubber Threshold ramps) Ramps are available for something as simple as a ground to sill transition or ground to step transitions. EZ access also has Trifold ramps which are often needed for wheelchairs and scooters to access steps, vehicles, and raised landings. These ramps are wide enough for wheelchairs and scooters and yet fold up for flexibility of use. Suitcase ramps are another option for flexibility of moving a ramp to when and where it is needed. These ramps fold up for easy removal and set up including a flexible non-breakable handle which offers convenient carrying with a comfortable grip.
Wood, steel or aluminum mesh
Ramps can be designed to enhance the ascetics of your home while still providing the function you desire. Many ramps quick and easy installs with most of the work being completed ahead of time. Anti-slip measures are always taken into consideration to be sure you are safe using the ramps during any kind of weather. Many ramps also come with a warranty. Which ramp is right for you? Give us a call today for your free consultation.
Many other living aids are available upon request. We are happy to help make you as independent as possible, while keeping you safe and comfortable. Call us to see how we can make your life easier! We provide our services to those in and around Reading PA, Lancaster PA, Lebanon PA, Harrisburg PA, Allentown PA, Philadelphia PA, and Scranton PA.
---
Scooters
Full line of Pride Scooters.
Scooter lifts, accessories, and many other options that are available for each scooter.
MORE INFORMATION ON SCOOTERS
Many makes and models are available depending on the needs of the client. Paramount Living Aids does not have a showroom but is very knowledgeable on the many models that are available. Contact Paramount to see what Pride has available to meet your specific needs. Paramount also has access to scooter lifts, accessories, and many other options that are available for each scooter. Call Paramount Living Aids to discuss which features are important to you to be guided in the right direction of picking the product that best meets your needs.