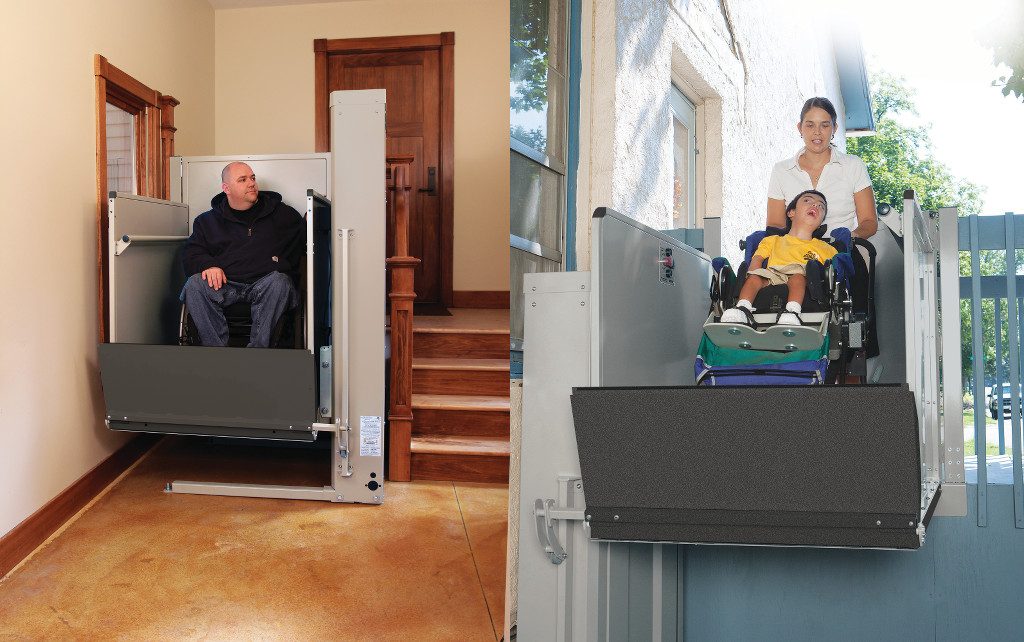 What is a Vertical Platform Lift?
If you use a mobility device (applies to scooters, wheelchairs and power chairs as well), a vertical platform Lift will allow you access into and out of your home or other areas of your home such as decks and porches, without having to transfer out of your wheelchair. A vertical platform lift functions much like an elevator lifting you to areas that would otherwise be inaccessible.

We install and service Vertical Platform Lifts.

Vertical Platform Lift Features
Depending on the make and model, your vertical platform lift could offer a number of different features, but the following features are typical for high quality vertical platform lifts.
Lift height of up to 14ft

Lift capacity of 750lbs
Automatic self-lowering or stationary ramp
Weather resistant finishes and controls
Emergency stop switch on platform
Obstruction sensors at the bottom of the platform
Battery powered models allow operation during power outages
Non-skid ramp and platform surfaces

Options
A number of options are available to customize your vertical platform lift further for your safety and ease of use.
Call/Send Station at Landing

Powered gate operator
If you have any questions about our services in Reading PA, Lancaster PA, Lebanon PA, Harrisburg PA, Allentown PA, Philadelphia PA, and Scranton PA, feel free to contact us.
You can also reach us by:
Phone: 484-509-5024
Fax: 610-796-4739
225 N. Kenhorst Blvd.
Reading, PA 19607